Join the property investment revolution
with MyPropTech!
MyPropTech offers exclusive deals from leading developers in Australia, New Zealand and the United Kingdom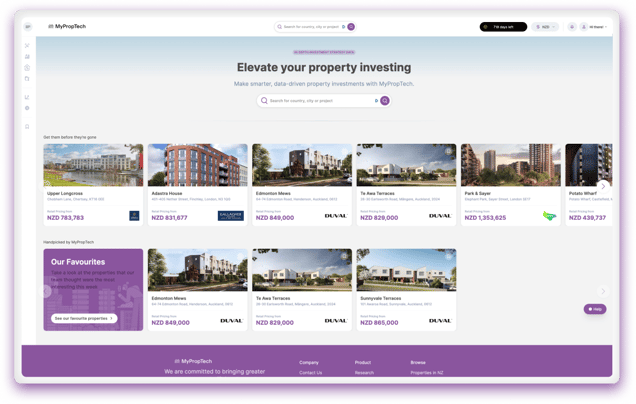 MY MARKETPLACE
Access property from the world's best developers at huge discounts!
MyPropTech members can buy property with MyPropTech Dynamic Pricing™.
The concept behind MyPropTech Dynamic Pricing™ is simple. The more you buy of something the better the deal you get. It works the same way with real estate!

We negotiate huge discounts on new build property with the world's best developers. How do we do it? We agree discounts for property linked to the number of properties we sell. The more we sell the BIGGER the discount.

MyPropTech Dynamic Pricing™ creates an economy of scale equal to an institutional investor. Our algorithm aggregates investors to create buying power that they cannot achieve alone.

We have hundreds of properties for sale at discounts not available anywhere else.
Millions in Savings Available
MY Research
Invest Smarter, Not Harder with MyPropTech Research
Having the right information is critical to making good decisions. It's impossible to do a good deal if you don't know what a good deal is!

Access to data is key to making informed investments and maximising your ROI. We offer data-driven property analysis for all postcodes. Providing insights into the local market and the potential of your investment.

MyPropTech streams real-time market data for Australia, the United Kingdom, and New Zealand.

We partner with the world's leading providers of independent data and research to ensure you have all the insights you need to succeed!

Our research provides property values, rental data, demographic trends, and economic indicators. Giving you a comprehensive understanding of the market.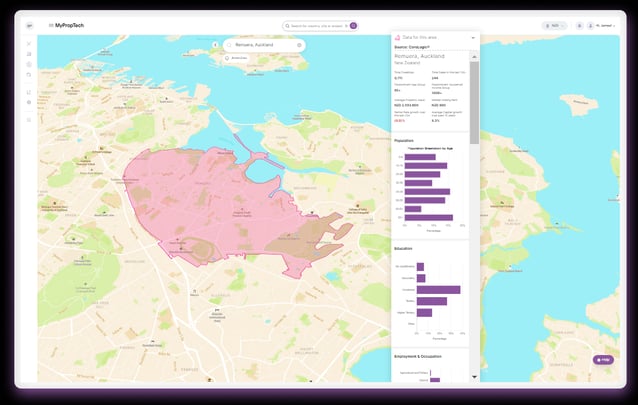 Our exclusive deals and advanced tools are your secret weapon for property investment success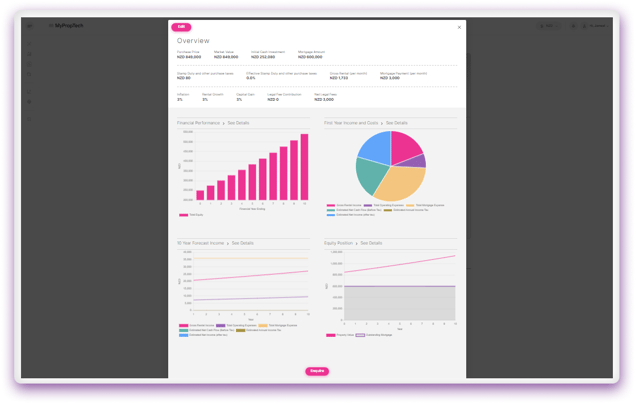 My Analysis
Maximise Your ROI with Our Data-Driven Property Analysis
At MyPropTech, we understand that maximizing your return on investment (ROI) is crucial. That's why we provide advanced property analysis to provide you with the insights you need to make informed investment decisions. MyPropTech allows you to forecast the after-tax performance of an investment, helping you identify the most profitable investment opportunities.
With our comprehensive property analysis, you can easily evaluate a property's investment potential. This means you can invest with confidence, knowing that you have all the information you need to maximize your ROI. So why settle for less when you can invest smarter with our intelligent property analysis?
Manage Your Property Portfolio Like a Pro with My Portfolio
With My Portfolio, you can now manage your property portfolio like a pro. My Portfolio enables you to track and manage your investments with ease, giving you greater control over your portfolio.
Our advanced portfolio tracking tool allows you to forecast returns for up to 30 years and compare actual performance with your projections, helping you make better decisions for your future. Start building your virtual portfolio today and take the first step towards managing your properties like a pro!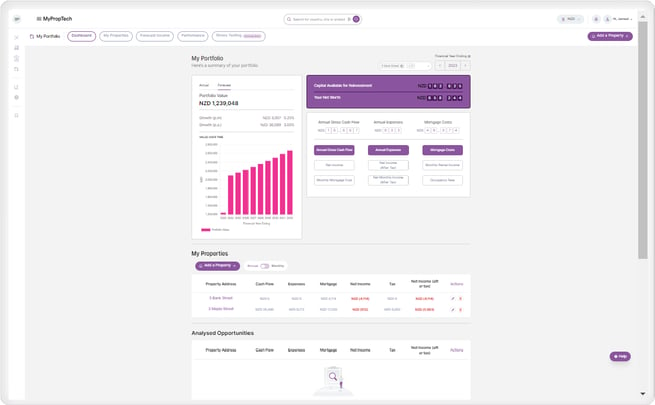 Recent Blog Posts
Show your most recent blog posts on any website page
Frequently Asked Questions
See the answers to our FAQs below!
What is the MyPropTech platform all about?

MyPropTech provides members with exclusive access to new build properties from top developers around the world. We offer significant discounts from the retail market price, making investing in property more affordable than ever.

In addition, we provide research and analytics at a postcode or suburb level to give you a better understanding of the market.

We provide tools to allow you to analyse opportunities and forecast returns, so you can make informed decisions about your investments.

We also offer a virtual portfolio where you can track your property investments and forecast returns for up to 30 years! This feature allows you to compare actual performance with your forecast, giving you greater control over your investments and helping you make better decisions for your future.
Which countries have properties listed for investment on MyPropTech?

MyPropTech provides members with exclusive discounts to new build properties from leading global developers.

Currently, we offer investment opportunities in New Zealand, and the United Kingdom. We have properties from Australia coming soon and plan to expand to other countries in the near future!
Are there any fees for using MyPropTech?

At MyPropTech, we offer a subscription-based model where members pay a monthly or annual fee for exclusive access to property research and opportunity analytics, as well as property deals that offer substantial savings. By subscribing to our service, you can potentially save thousands of dollars on your investments, while also being equipped with the insights you need to make informed decisions.

You can see subscription options on our pricing page.
What if I have questions or concerns about investing through MyPropTech?

We understand that you may have questions or concerns regarding an investment, which is why our team is always available to assist you. Whether you have a query about a property deal or need guidance on making the best use of our platform, you can reach out to us through our website, email, or phone, and we'll be happy to help you.
What is KYC and AML, and why do I need to undergo them during the investment process?

KYC stands for "know your customer" and AML stands for "anti-money laundering". These are regulatory requirements that we must follow to prevent money laundering, fraud and corruption. If you purchase a property, you'll be required to undergo KYC and AML checks, which involve providing identification documents and other information to verify your identity and ensure that your funds come from legitimate sources. This is a standard procedure when purchasing property.
"

MyPropTech is a game changer for property investors. It makes understanding investments so much easier and gives investors greater control of their portfolio. It's definitely the smart way to invest in property

"